Categories
contact us
Contact: David Min
Email: david_min@mozisdom.com
Telephone: +86-0519-88768880
Web: www.mozisdom.com
Mobile: +86-135 8433 3945
Add: No.586, Changhe Road, Zhenglu Town, Tianning District, Changzhou City, Jiangsu Province, P.R.China.
Recommend related products
LG Roller Granulator (Roller Compactor)
Product Details
Photo Slide
Product Details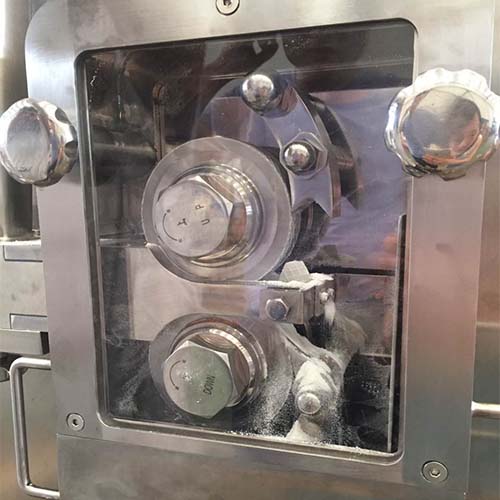 1. General description:Dry granulator is a new type product that developed by our company on the basis of the advanced granulating technology of China and abroad. It has the multi function of extruding, crushing and granulating. It can make the mixed powder to granules. It adopts the advanced press roller control technology, and the technology parameters can be adjusted by adjusting the physical wave of different materials and different batches. The quality, stability, disintegrative and solubility of granules are proved. The machine features small occupied area, easy to operate, energy saving, environmental protection and easy to disassemble and clean. The granules can be used for pressing tablets and filling capsule. The machine is widely used in pharmaceutical industry.
2. Features:1. The granulating device and transmission device are install separately, so there is no cross pollution.2. The unique feeding system: Hopper is advanced ellipse and adopts change-air device. So the mobility of product is good, and there is no bridging phenomenon that because of bad mobility and air-resistor. The production process is continuous.
3. All parts contact with material are easy to disassemble and clean. The works pace is closed, there is no dust flying, so there is no pollution.
4. The press roller is made by special stainless steel, and it has good rigidity hardness and corrosion resistance. So there is no material pollution.
5. The unique cool, transfer and spread system. The movement of material is smooth and density is even. And the temperature of transfer device can be controlled effectively, so there is no melted material stick on the roller or the color and granules changed because of long time running.
6. The unique press device: it can ensure the constant compressive stress and even thickness of plates. The distance between rollers can be regulated aromatically, it can meet the granulating requirement and continuous production process.
7. The unique cooling system: It adopts air cooling or water cooling technology, the temperature rise of roller surface and be controlled and regulated. The plate material will not melt, adjoin and change color. And there is no condensation of the rollers. The probability of pollution is decreased effectively.
8. Two degree granulating system: Coarse granulating can crush the big granules to small granules. Fine granulating can get the uniform granules. Dust is less and rate of finished product is high.
9. After granulating and screening the qualified granules will be discharged and unqualified will be back to hopper for second granulating.
10. The machine is beautiful, and adopts visualization design, the observation and maintenance is easy.
11. Control system is human-computer interface, the operation is simple.12. It meets to the requirements of GMP.
Online consulting
Related Information